Award Winning Business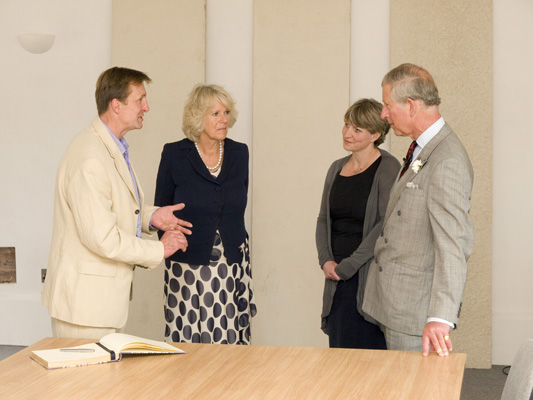 Established in 1995, by husband and wife, Nigel and Joyce Gervis, Ty-Mawr Lime Ltd has made an enormous contribution to resurrecting the use of traditional building materials in Wales.
Ty-Mawr Lime Ltd has gone on to become a market leader in the design, manufacture, and distribution of environmentally-friendly building materials and systems, providing a 'one-stop' shop to clients throughout the UK.
In that time, they have received numerous awards and accolades for their work in this sector.
Ethical Company Award - T

ŷ

-Mawr is delighted to announce their successful accreditation by The Ethical Company Organisation;
We are really pleased to be listed in the top Ethical Ranking Companies of 2016 in the world;
Sustain Wales Awards - In 2016, we were delighted to be shortlisted in the Sustainable Venue Category of the Sustain Wales Award and pleased to be announced as runner up (winner was Principality Stadium).
The Leading Wales Awards 2016: In June 2016 our MD, Joyce, was announced as the 'Leadership for the Future' Winner at the 2016 Leading Wales Awards.
Ashden Award finalist: In March 2016 we heard that we'd been shortlisted with 9 other UK companies for a prestigious Ashden Award;
Responsible Business Champion 2015 - We were extremely pleased to have been presented with the All-Party Parliamentary Award for "The Responsible Business Champion 2015" by Roger Williams CBE MP;
Powys Business Awards - T

ŷ

-Mawr was delighted to be presented with the Overall Winner for Development of New Markets at the 2014 Powys Business Awards;

LABC Excellence Awards - T

ŷ

-Mawr Lime's sublime® floor system - a breathable slab-less insulated lime screed flooring system - was awarded the Overall Winner (Best Technical Innovation) in the Powys Building Control 2013 Excellence Awards, as well as the LABC South Wales Awards;
World Architecture Awards - We were thrilled to hear that our glaster® was short listed for the World Architecture News (WAN) awards and was Highly Commended in the "Product of the Year 2012" category;
Marsh Award for Traditional Building Skills - On the 14th March 2012, we were delighted to be invited to attend an award ceremony at Kenwood House, London where Nigel Gervis, founder and technical director of T

ŷ

-Mawr Lime Ltd, was presented with the prestigious Marsh Award for Traditional Building Skills by Mr. Brian Marsh OBE;
Online Retail Awards - ORA Prix 'd'Or - T

ŷ

-Mawr Lime Ltd was a winner at the 2011 Online Retail Awards (ORA e-commerce category);
Wales Green List - In 2009 Nigel and Joyce Gervis were extremely proud to have been named as one of the 52 sustainable development champions in Wales' first annual Green List;
A Champion of Champions Award - T

ŷ

-Mawr were announced as winners of a "Champion of Champions" 2009 Agri-environment Award at Royal Welsh Show.
Go Green Awards - The best in Welsh business and entrepreneurship were honoured at the Chambers of Commerce Business Awards 2009 in Cardiff.
National Energy Efficiency & Healthy Homes Awards - Tŷ-Mawr were delighted to hear that their Sublime Insualted Limecrete Floor was named as runner up in the 'Product of the Year' category at the prestigious 2017 National Energy Efficiency and Healthy Home Awards.