Ty-Mawr Directors named in the first Wales Green List!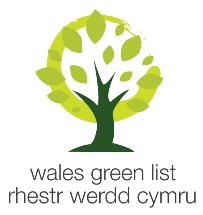 Nigel and Joyce Gervis are extremely proud to have been named as one of the 52 sustainable development champions in Wales' first annual Green List.
The Wales Green List celebrates individuals making Wales a better and more sustainable place to live. It's the first list of its kind in Wales, bringing together the different elements of sustainable development – environmental, economic and social – in one award.
The list, which was compiled by Cynnal Cymru – Sustain Wales, shows that green heroes are no longer restricted to stereotypical environmentalists but can just as easily be ordinary people, from any background, making a difference in their own way.
Included on the Wales Green List 2009 are chief executives in private companies, SME managing directors, politicians, parents, campaigners, poets, musicians and much more. Well-known names on the list include Jane Davidson, Minister for Environment, Sustainability and Housing and Gillian Clarke, National Poet of Wales.
Speaking at a celebration at the Senedd last night (19 October 2009), Helen Nelson, Director of Cynnal Cymru - Sustain Wales said: "The first ever Wales Green List highlights the fantastic efforts of some of our unsung heroes who are helping to create a brighter future for Wales.
"Every single person on the list has an inspirational story to tell and I'm sure their efforts will inspire others to take action too."
A panel, representing business, media, voluntary sector and sustainable development (Mike Batt, Carbon Trust; Chris Kelsey, Media Wales; Peter Davies, Sustainable Development Commission; Clare Sain-Ley-Berry, Environment Wales; Richard Jarvis, and Helen Nelson, Cynnal Cymru - Sustain Wales) chose the best examples of sustainable development from numerous nominations received by members of the public.
A photo portrait exhibition featuring 21 green heroes from the Wales Green List was launched 19 October 2009 and toured Wales.