The Cowshed at Glastonbury Festival
Tŷ-Mawr ‌‌ posted this on 11 Apr 2016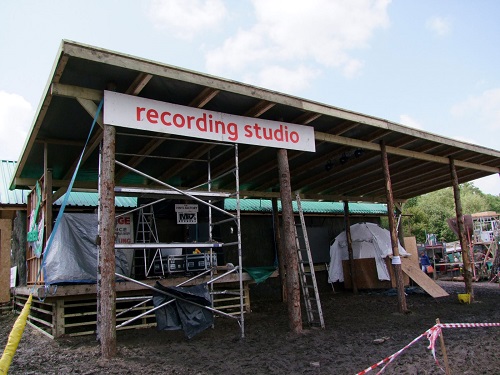 Greenpeace constructed a timber and strawbale recording studio at the Glastonbury Festival.
Client: Greenpeace at Glastonbury Festival
Materials Supplied: Ty-Mawr sheep's wool insulation
The importance of acoustic insulation was paramount on this building right from the design stage. The project team had to consider both insulating qualities and ethical sourcing as well as the ease of installation in a confined space.
"The discovery of Ty-Mawr's sheep's wool insulation offered an ethical guarantee of sourcing and production which had no toxic chemical processes. The inert nature of the insulation was also beneficial to those who fitted and worked within the studio. Everyone who worked on the building commented on the difference from fibre alternatives.
On the final day of installation, I had to visit several tents to retrieve batts which had been borrowed as temporary mattresses!
As for the acoustic qualities, the results speak for themselves we created a silent atmosphere within the world's largest (and loudest) music festival.
I would recommend Ty-Mawr's sheep's wool insulation to anyone who was looking for insulating to be a rewarding experience." Project Manager