Ty-Mawr's LABC Registered External Solid Wall (EWI) Insulation System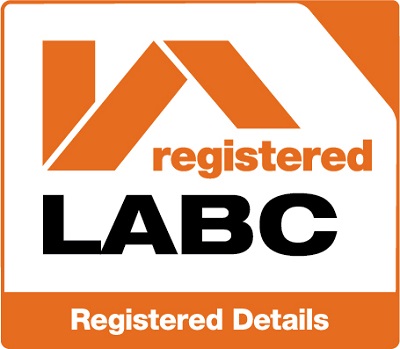 Solid Wall Insulation - In the UK, 1 in 4 of our homes has 'solid' walls, and around 45% of the heat lost in an un-insulated solid walled home is through the walls. In the drive towards energy efficiency and carbon savings, we are all being encouraged to insulate our homes.
However, solid walled buildings also need to allow moisture to evaporate and therefore any insulation solution must work in the same way as the building, to avoid the problems associated with trapped moisture.
If all solid walls were insulated, there would be a massive carbon dioxide saving of 16,000,000 tonnes per annum - equivalent to the emissions from 2.7 million homes for a year.
How do I insulate an External Solid Wall?
Ty-Mawr now has LABC Details for all of their wall, roof, and floor systems especially designed for solid wall construction buildings as well as environmentally friendly new builds. These systems are all compatible with solid walled buildings in that they do not trap moisture. They also comprise exclusively of environmentally friendly materials.
External Wall Insulation (EWI) is installed from the outside, effectively wrapping the building up. This type of installation method may change the physical appearance of the building (which may usually require planning permission) and will necessitate the removal of rainwater goods and may require adaption of the roof and wall junctions, as well as window and door openings, as the wall is essentially being made thicker.
Below are some options and accompanying illustrations to consider:
Option 1 - with Wood Fibre Boards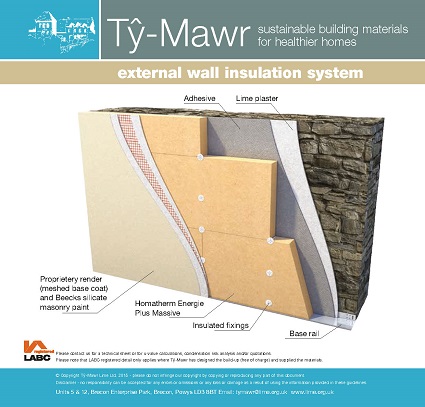 Option 2 - with Wood Fibre Boards and Natural Insulation between studs
It is important to understand that there is not a standard 'off the shelf' solution for all buildings, and products should be specified on a building-by-building basis. It is also very important to fully understand the implications of adding insulation to your building. Out team at Ty-Mawr are able to undertake U-value and Condensation Risk Analysis for your specific wall build-up to aid your architect/builder, and also offer site visits with a condition and recommendation reports which are recommended if there are any queries or concerns about the condition of the walls.
To assist with this, visit our Site Visit and Consultancy Service page.
The options shown are graphical representations of some of our solutions but please contact us should you require an actual calculation and condensation risk analysis undertaken for your specific situation.
The boards can carry various plasters including our lime plasters, glaster, and lime hemp products. The application guides must be followed for successful results.
Call our technical support team on 01874 611350 or email: technical@lime.org.uk.