ABC - Adfer Ban a Chwm
ABC is a building preservation trust concerned with the derelict vernacular buildings of rural Wales.
These abandoned buildings are generally unprotected (not listed or scheduled), but they encapsulate the history of farming communities across generations. They represent a connection with and understanding of the land, worked by the people who built and lived in them - skills which are increasingly relevant in our current quest for environmental sustainability. As these abandoned buildings continue to fall further into disrepair, and their physical remains disappear, they take with them the culture and stories that have survived amongst their communities. Their ultimate loss will deny future generations the opportunity to learn and benefit from the knowledge contained in their fabric.
ABC's 2016/17 Grassroots Heritage Project began to address this issue. Our landscape mapping programme covered an area of just over 230 square kilometres in the western Brecon Beacons and identified 281 abandoned homesteads, all of which had been occupied and in use at the close of the 19th century. Site visits with ABC's community volunteers showed that the buildings are deteriorating rapidly, with many threats to their survival. These abandoned homes belonged to 'y werin', and are a vital element of our recent, and more distant past in Wales. Many are small, easily forgotten or lost and therefore still under-represented in Wales' mainstream heritage. Our study highlights the level of rural depopulation which occurred throughout Wales during the 20th century - an issue which continues to affect these areas today.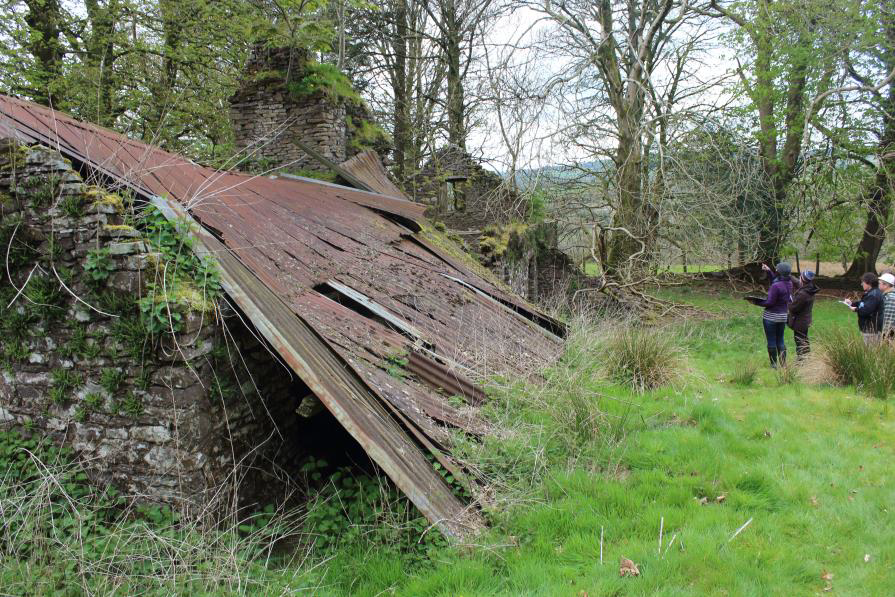 ABC believes that the decline and loss of these buildings without record is culturally unacceptable, but it is also environmentally short-sighted. Our work so far has aimed to demonstrate why vernacular buildings are relevant now. We believe that they can and should be a resource for their communities for the future. We continue to promote the re-instatement and re-use of vernacular buildings for sustainability and environmental reasons, to reduce the use of environmentally damaging conventional building materials and practice, and to reduce resource use and waste. We believe that properly understanding a building's history, context, fabric and development can provide buildings for communities which respond fundamentally to their local cultural context, with better environmental credentials, that are genuinely sustainable.
During the difficult times we are now experiencing in 2020, ABC has decided to take a break. Once things settle down, we will return to continue our work promoting awareness and understanding of Wales' rural, vernacular buildings.
A huge thank-you to Ty-Mâwr for including ABC in their Relevant Organisations pages.
While ABC is taking a back seat, to see what we have done over the last 10 years, take a look at our website (www.abcwales.org.uk). Please do get in touch with us if you would like more information (joaniespeers@abcwales.org.uk). And finally, please note, our website is not up to date (apologies).
Adfer Ban a Chwm is a charitable company limited by guarantee, registered in England and Wales
Company no. 6591116; Charity no. 1124385
There are no products matching the selection.