Our award-winning sublime® Limecrete floor
Date published: 01/01/2016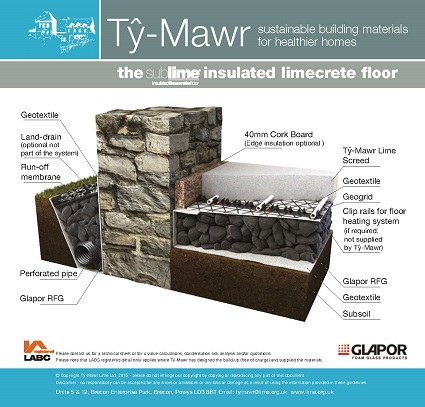 Ty-Mawr's sublime® Limecrete floor's breathability makes it ideal for use within existing solid wall properties. However, its excellent environmental credentials, along with its simplicity and ease of installation, makes sublime® an equally appropriate choice for new builds and extensions too!
The GLAPOR Recycled Foamed Glass (RFG) component is the most structurally and thermally superior product we have ever supplied for floor applications. By using GLAPOR RFG gravel within the insulation layer of your floor, savings can also be made on installation costs due to the RFG's ability to compact to a weight bearing surface. The GLAPOR RFG also offers the benefit of being more 'sustainable' as it is manufactured using 100% recycled glass.
Customer confidence in our systems is vital which is why at Ty-Mawr we have invested heavily in product testing and certification. Our sublime® floor system, like the Limecrete system before it, carries LABC Registered detail (Approved Feb 2013).
Our team are able to design your floor to meet the needs of your specific building, ensuring that you get the best performance for your building and as well as meeting building regulations if required. If you wish to take advantage of our free calculation service please visit the Quanity Calculators on the Homepage, complete the fields, and we'll do the rest!