Mortar Analysis & Matching Service
Date published: 11/05/2017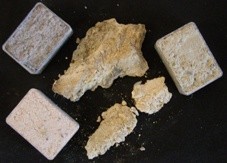 Mortars can be seen in a wide range of colours and compositions across the country, they will vary from region to region as local sands, local sources of lime and pozzolans would traditionally have been used. It is the aggregate/sand that predominantly effects the colour and texture. There are several ways that you can go about choosing an appropriate mortar, you can either buy a box of samples that will enable you to choose the closest match on-site, or you can ask us to do a mortar analysis/match.
We offer three types of analysis:
Level 1 - Visual Analysis and Recommendation - Free of Charge: Mainly used when pointing work is to be undertaken on an old building and it is required/desirable to match the colour and texture of the original mortar. We will make a recommendation for the best aggregate and type of lime to use. Please allow 1-2 weeks lead time from receipt.
Level 2 - Dissolution Analysis - £26.25 + VAT: Acid is used to dissolve the binder and any calcareous aggregate within the mortar. The resultant product is then dried and run through a series of B.S. sieves to ascertain the grading of the aggregate. A short report is provided of the results along with recommendations on a replacement material. Please allow 2-3 weeks lead time from receipt.
Level 3 - Chemical Dissolution Analysis - £188.50 + VAT: A chemical analysis or a petrogrpahic analysis – although more unusual, these techniques are used for historical information for reference or where it is necessary to check the exact composition of the mortar e.g. in cases where failures may have occurred. We undertake a process that: ascertains the chemical composition of the mortar and the likely binder type, and hydraulicity; estimates the original mix proportions; determines the silt and clay/fines content of the mortar sample; extracts and photographs the sand and aggregate component of the mortar sample. A detailed report will be provided on the findings. Please allow 3-4 week lead time from receipt.
For all of the above tests, complete a request form and post with a sample of the mortar (50g sample) for the attention of:
Product Support, Ty-Mawr, Unit 12, Brecon Enterprise Park, Brecon. LD3 8BT
with payment if appropriate (payable to Ty-Mawr Lime Ltd).
We are also able to offer the following tests:
Full water soluble salts analysis (Price on Application)
Full toxic metals suite for paint and historic materials (POA)
Attic dust/roof void dust and floor void dust analysis (POA)
Thermogravimetric Analysis (POA)
Concrete testing suite (POA)
As well as getting the colour and texture right, it is also vitally important to choose a lime that will produce a mortar of an appropriate strength for the job that you are doing, see lime products.