UK approval for Cork Insulation system
Date published: 01/07/2015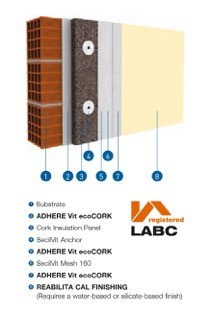 In the UK, 1 in 4 of our homes has 'solid' walls, and around 45% of the heat lost in an un-insulated solid walled home is through the walls.
In the drive towards energy efficiency and carbon savings, we are all being encouraged to insulate our homes. If all solid walls were insulated, there would be a massive carbon dioxide saving of 16,000,000 tonnes per annum - equivalent to the emissions from 2.7 million homes for a year.
Ty-Mawr's Technical Director, Nigel Gervis, commented: "Solid walled buildings are often described as 'hard to treat' because they need more care; it is important not to simply add a high performance insulation material as solid walled buildings need to allow moisture to evaporate, therefore any insulation solution must work in the same way as the building, to avoid the problems associated with trapped moisture such as mold growth and condensation."
Ty-Mawr is one of the UK market leaders in developing insulation solutions for solid wall buildings using natural materials and have recently received LABC (Local Authority Building Control) Registered details for the SecilVit External Wall Insulation system using cork boards and renders. Cork is natural and renewable (extracted from the cork-oak tree every 9 years), it offers a breathable insulating material, free from any chemicals, synthetic resins or carcinogenic materials. The cork's low thermal conductivity (λ=0,040 W/m.K) offers a high energy efficiency, thus contributing to a reduced environmental impact as well as offering economic savings.
Ty-Mawr's Managing Director, Joyce Gervis, added: "This system extends the already successful LABC registered EWI range at Ty-Mawr using Homatherm Woodfibre Boards. This woodfibre board is manufactured using a modern dry process without glues; it's vapour permeability, high compressive strength and low thermal conductivity have all contributed to the success of this system in the UK."
Call our Technical Sales Advisers on 01874 611350 to discuss your insulation requirements.