Ty-Mawr honoured at the Chambers of Commerce Business Awards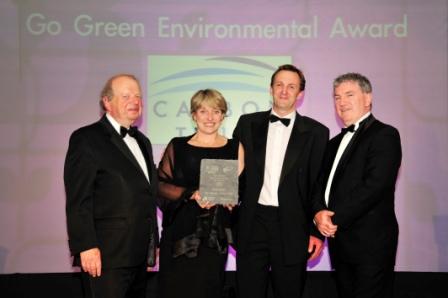 The best in Welsh business and entrepreneurship were honoured at the Chambers of Commerce Business Awards 2009 in Cardiff.

In front of a business audience of 300 people at the Mercure Holland House Hotel, eight companies and entrepreneurs were honoured, at a glamorous dinner on the 11th September.

The awards from South Wales Chamber of Commerce in partnership with the Western Mail were presented by TV personality John Sergeant.
The Go-Green Environmental Award, sponsored by Carbon Trust, went to Powys-based Ty-Mawr Lime and was presented to the directors, Nigel and Joyce Gervis, by the Trust's Mike Batt.

Ty-Mawr has worked hard to reduce the environmental footprint of their business, over the last two years they have invested over £100,000 in installing a biomass heating system (to heat the farm complex, offices and training centre) and installed a bespoke system to capture the 'waste heat' from their manufacturing process. A system is being installed to actually measure the savings in CO2 emissions believed to be in the region of at least 40 tonnes per annum! This further reduces the environmental impact of the products they produce.
Joyce said "Our clients come to us because they are concerned about the environmental impact of buildings and building materials, the work we have done represents a huge investment for us but we feel we have an obligation to do all that we can to help the environment and hopefully our products will be even more attractive to those who share our concern to do all that they can to improve the environment!"