Straw Cottage, Llandrindod Wells
Tŷ-Mawr ‌‌ posted this on 11 Apr 2016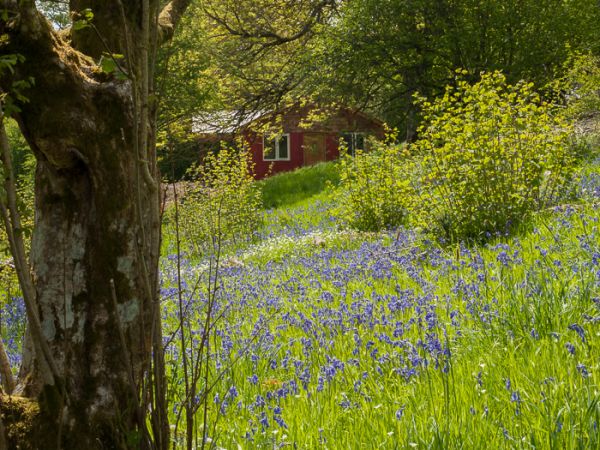 Straw Bale Holiday Cottage is an unusual place to stay in Llandrindod Wells, Mid Wales. The ultimate getaway, The Straw Cottage is truly far from the madding crowd, a straw bale cottage in an idyllic spot on Ty Gwyn Farm.
Client: Ty-Gwyn Farm, Llandrindod Wells
Materials Supplied: Ty-Mawr glaster® Plaster/Render (Colour: Strong Red); Earthborn Ecopro Emulsion (Colour: Dusky Pink)
The cottage has been built using centuries-old building methods. The walls are made of straw bales, and then coated with Ty-Mawr's lime plaster/render inside and out. The roof insulation is sheep's wool and the roof is covered with cedar shingles.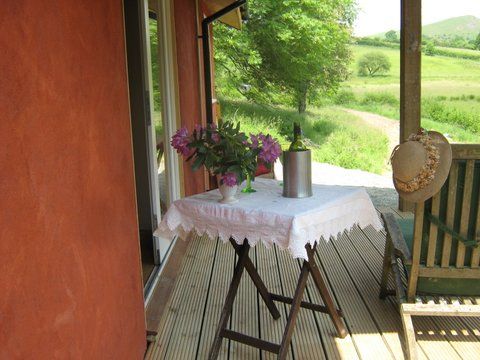 Our glaster® is a blend of hydraulic lime (binder) and recycled glass (aggregate) and pigment (for self-coloured products). It can then be painted with a vapour-permeable paint or left as a smooth trowelled finish. There is a range of standard colours or we are able to tailor-mix a specific colour for your project. We can also discuss different surface finishes i.e. pigmented plasters, different grades (e.g. to give a roughcast finish) and colours of glass aggregate.
The mixed glass in this lime plaster provides a decorative finish that can be troweled to a smooth finish or sponged to reveal more of the glass aggregate to have a surface that 'twinkles' in the right light!
Earthborn's Ecopro Emulsion is the healthy, high performance, environmentally sound alternative to conventional emulsions. Its colour range features both traditional classics and sassy contemporaries.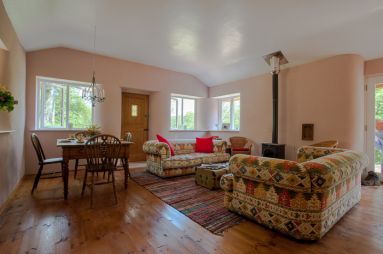 Being water based, breathable and acrylic and VOC free, Earthborn Emulsion helps create a healthier and more comfortable living environment.
In use, Earthborn Ecopro Emulsion has great covering power and is odour free. Once it's on the wall, it provides a hardwearing, anti-static finish that's very easy to live with. It is easy to apply. It is wipeable, breathable, hygroscopic, and virtually non-drip.
At Straw Cottage, the heating comes from the wood burner, hot water and cooking are by gas. Lighting is by candle, lantern, gas lights and solar.