St Mary's Priory, Abergavenny
Tŷ-Mawr ‌‌ posted this on 8 Apr 2016
Client: Donna Smith Decorating & Sculpture Conservation
Project: St Mary's Priory, Abergavenny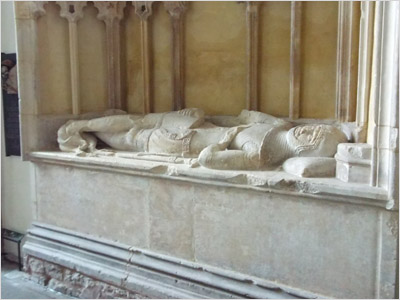 Donna is a trained sculpture conservator with 10 years' experience. This work has involved the conservation of architectural stonework, period plaster ceilings, sculpture, public memorials and church monuments, be they wall monuments or tomb effigies.
Donna Smith Sculpture ConservationAs this work was often site based, she undertook further training to expand her expertise in order to offer a greater range of services. Her decorating training culminated in an advanced craft qualification in decorative schemes which compliments her training in sculpture conservation. As a professional decorator she covers a wide range of projects from straightforward decorating to more traditional finishes.
In 1992 she completed a post graduate diploma in the conservation of architectural stonework, Bournemouth University. Her first position as a conservator was at Salisbury Cathedral. She worked as part of the conservation team for 12 months on the spire and tower restoration programme with Nick Durnham as consultant conservator. Her work involved cleaning stonework, carrying out assessments and recording the condition of the stonework, mortar repairs, replacing cement pointing with lime mortar pointing and shelter coating.
She has built up a wealth of experience in the field of sculpture conservation, working on limestone, sandstone, marble, alabaster, coadestone and plaster, and she is experienced in carrying out repairs using the most appropriate materials whilst at all times adhering to the ethics of conservation.
One of the most significant projects as been at St Mary's Priory in Abergavenny where she has been undertaking the cleaning and repair of some of the monuments there, including:
William de Hastings : C14th : Limestone : Detail of the head. The most effective and suitable method for cleaning this effigy was a steam cleaner. The surface was cleaned in a careful and controlled manner. Before the effigy was repositioned in the recess and following the removal of limewash from the carved stonework above the effigy, a lime render was applied to the prepared wall. A coarse scratch coat was applied, followed by a fine aggregate, sand and lime mix which was a superb match to the stone used in this monument. These lime renders were produced by Ty Mawr Lime Ltd.
Judge Andrew Powell and his wife : C17th : Alabaster : St Marys Priory, Abergavenny : The dramatic appearance of these two effigies has been caused by water; a leaking roof led to rainwater settling on the two figures whilst in their original position in the Herbert Chapel prior to the 1990s conservation programme. As alabaster is water soluble one can see how the two effigies were damaged by the water penetration. The tomb monument was rebuilt in the southwest corner of the Herbert Chapel. It was built on a concrete raft, and a damp proof membrane was put in place in order to isolate the effigies from the penetration of moisture. A dry core was built using thermolite blocks (dried out completely ) and a resin mortar. New limestone plinths and mouldings were commissioned, with a fine lime render within these. Again this was from Ty Mawr Lime Ltd. Remaining fragments of the original tomb and a lettered panel were incorporated within the base.