Pontefract Castle Restoration
Tŷ-Mawr ‌‌ posted this on 8 Apr 2016
A multi-million-pound project to restore Pontefract Castle is underway and a number of Ty-Mawr Lime products will be used on the project.
The £3.5m restoration project will open up parts of the castle not seen by the public since the 17th century, and as part of the four-year project, a Victorian barn on the site will be transformed into a new visitor centre with a shop, cafe and classroom facilities.
So far we have supplied Thermafleece Welsh Cosywool, Celenit Woodwool Boards, wood fibre boards, pro clima Intello Plus (and pro clima Tescon Vana & pro clima Tescon Profil tapes. All of this forms a comprehensive vapour-permeable insulation system for roofs, walls and ceil­ings.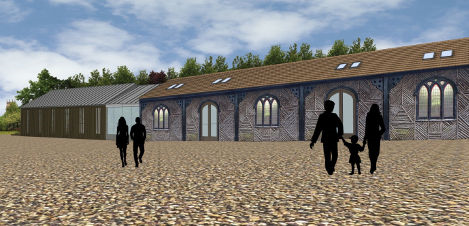 The scheme has been funded through a £3.045m grant from the Heritage Lottery Fund (HLF) along with another £455,000 from the council and English Heritage.
Council officials expect that visitor numbers will almost double once the restoration work is complete.
Ben Cook, the council's service manager for market, tourism and major events, said: "The castle is the town's heritage. I don't think most people realise the history but with the changes that are going to take place more and more, people will become aware.
"We currently get around 55,000 visitors to the castle per year but by the end of this project we expect that to increase to 95,000 per year."
As part of the project, the castle's Sally Port and Swillington Tower, which have not been accessible since the castle was destroyed in 1649, will be reopened.
Once complete, the work will mean the castle will be taken off English Heritage's At Risk register and a programme of events, activities and educational sessions will be held at the site.
Pontefract Castle is a castle in the town of Pontefract, in the City of Wakefield, West Yorkshire. King Richard II is thought to have died there. It was the site of a series of famous sieges during the 17th century English Civil War.