Champion of Champions Award (Contractor/Supplier) presented to Ty-Mawr Lime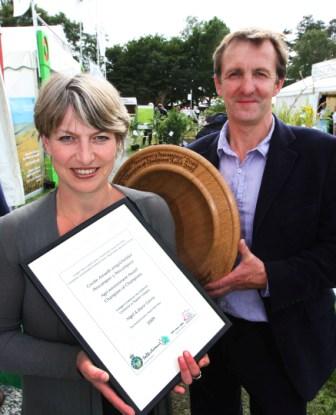 On Monday 24th July, the Rural Affairs Minister announced the Agri-environment Award 2009 "Champion of Champions" Winners at Royal Welsh Show.

To mark the tenth anniversary of the scheme, the awards were presented by Rural Affairs Minister Elin Jones AM, to the very best agri-environment practitioners from the competition's winners over the last decade.

Run jointly by the Countryside Council for Wales and the Royal Welsh Agricultural Society, with support from Wales Young Farmers Clubs, the awards recognise the outstanding contribution made by farmers, young farmers and contractors to caring for wildlife habitats and landscape features.

Nigel and Joyce Gervis, Ty Mawr Lime Ltd, Ty Mawr Farm, Llangasty, Brecon won the Contractor/Supplier Award. According to the judges: "They have been at the forefront of the re-discovery of traditional building crafts. An inspirational couple, environmental care is at the core of their business. They combine innovative technologies to create new materials with a passion to inform and educate others."

The couple were presented with a carved wooden bowl as well as a cheque for £2,000. Joyce Gervis commented: "It is nice to have this award in what is undoubtedly are a very hard year for all small businesses. It is good that there is also a recognition of just how important our materials are to conserving and enhancing the Welsh vernacular buildings that are very much part of our landscape. In reintroducing the materials, training in the skills associated with traditional lime plastering and building with lime has been vitally important and we have seen numbers grow to around 700 people per annum attending our courses from all over the UK and even overseas!"